We are super excited to announce our newest feature on Visual Society:
Photo Contests
!
Every month, we'll be adding new contests to our lineup, which enter through your Dashboard. Each contest will have a theme, such as "Forest" and you can upload your best photo for a chance to win $250 and a free Pro account! You can see all of the details on the
Photo Contests
page.
How To Enter
To enter and vote in contests, you'll need a free Visual Society account. You can
create a free account here
.
Once you're logged into the Dashboard, visit the Contests link in the menu on the left.
On the Contest page in the Dashboard, you'll see a list of all upcoming contests that you can enter: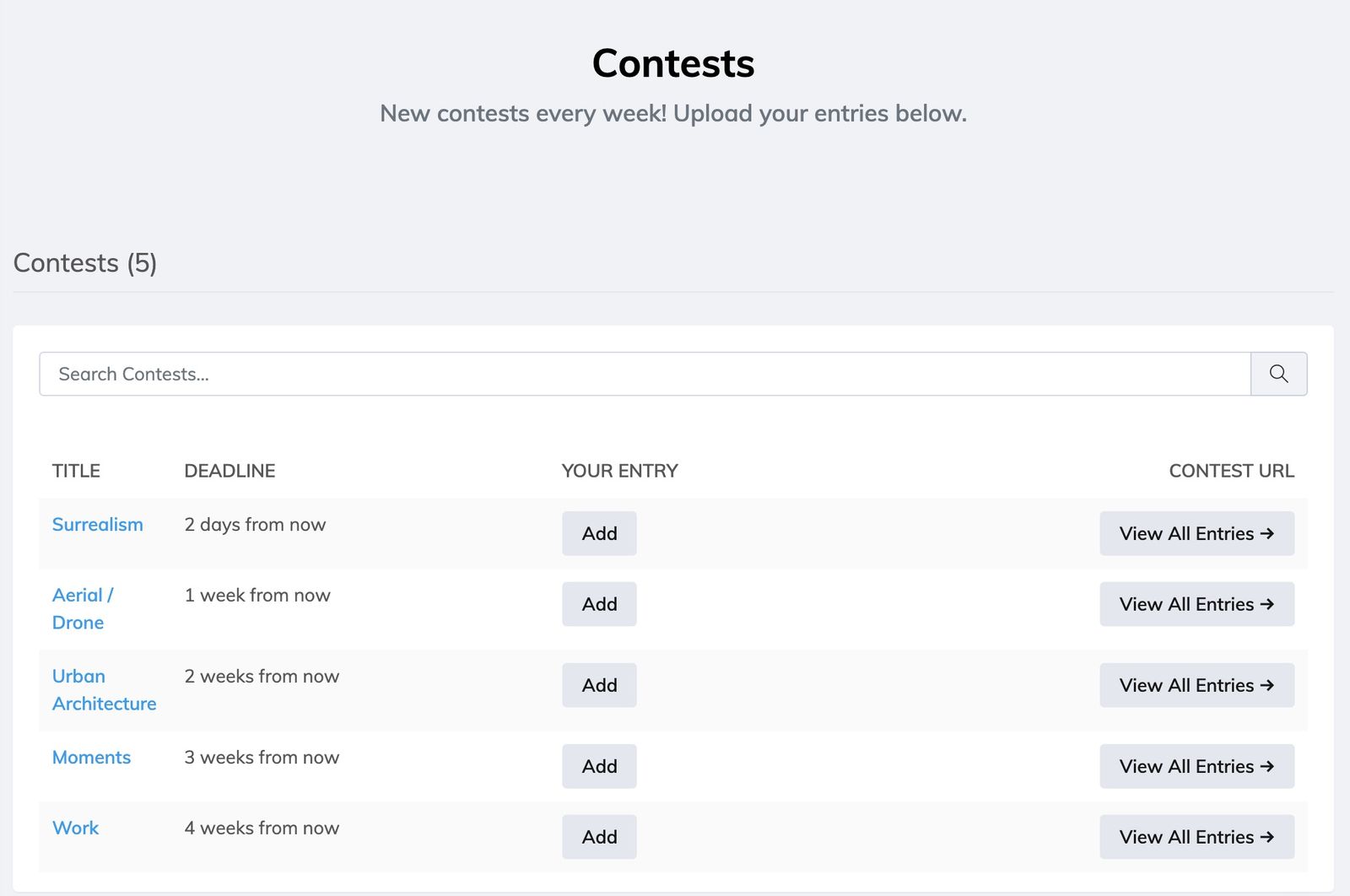 Click on the "Add" button and you'll be taken to a the individual contest entry page where you can upload your photo to the contest: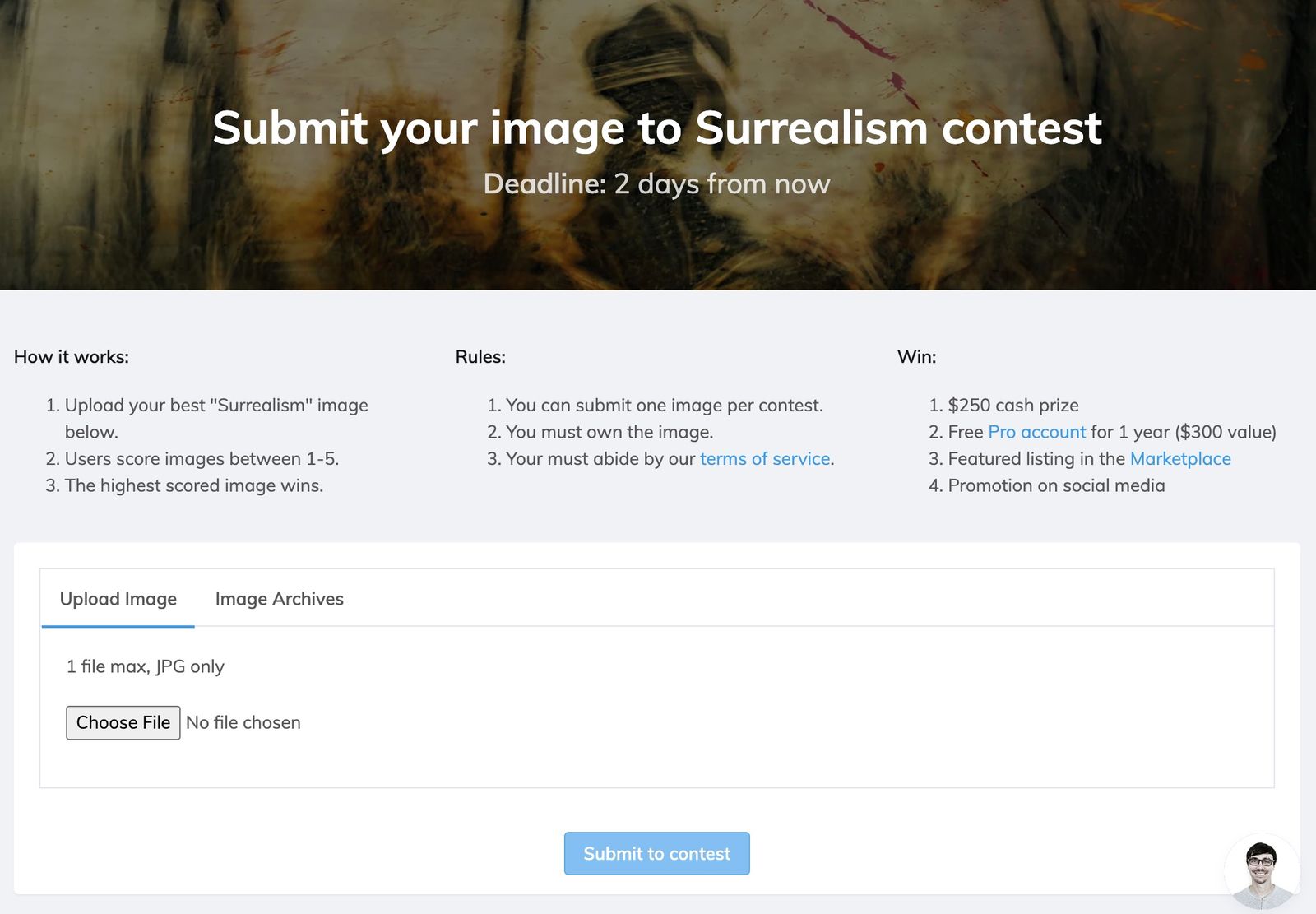 After submitting your photo, your image will need to be approved by Visual Society site admins. Once approved, it will show up in the contest listed on the
photo contest
landing page: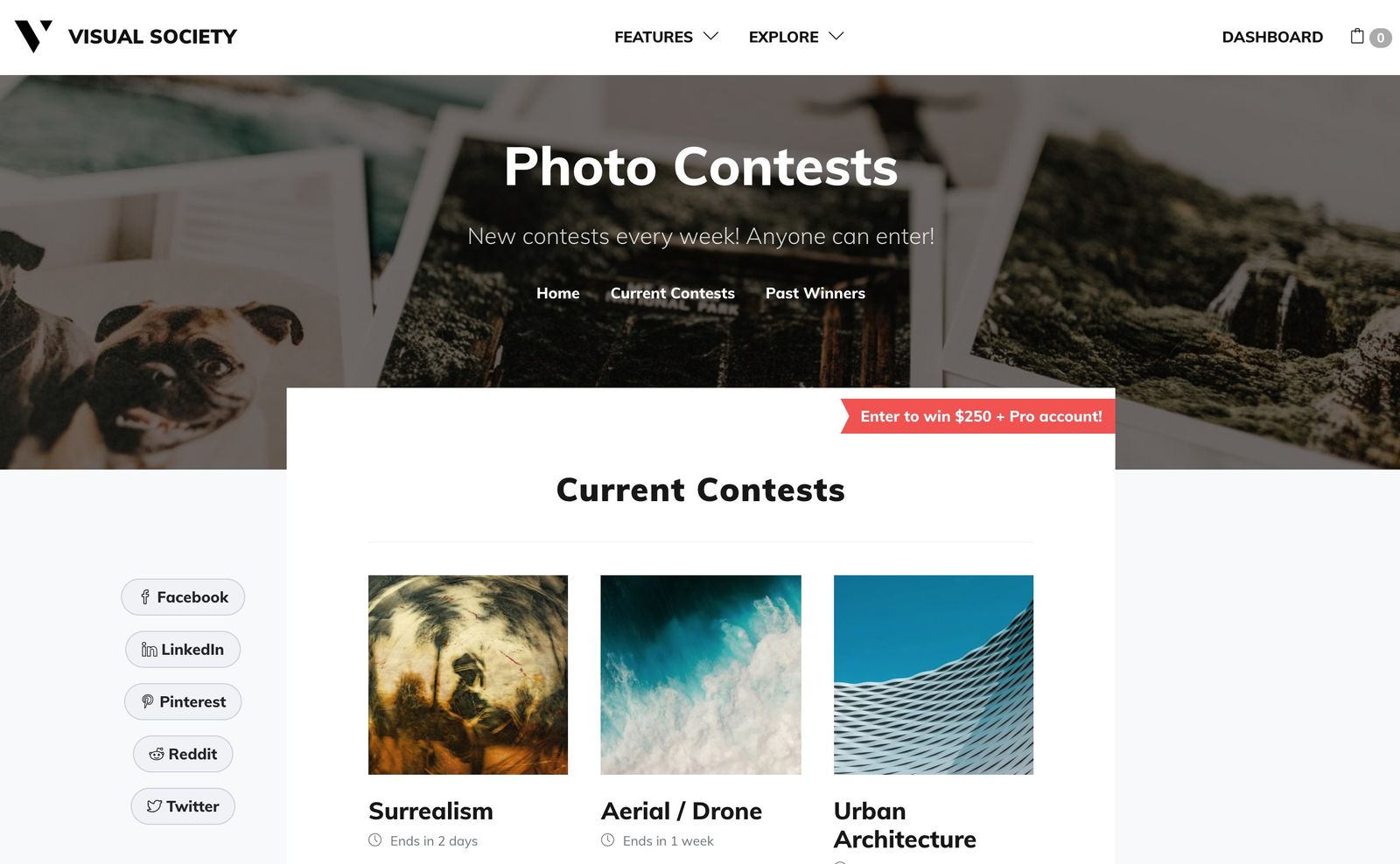 From there, you can vote on all contest entries once.
How To Vote
You must be a registered user of Visual Society, so go ahead and
signup for a free account
if you haven't done so already.
Next, visit the Contests page and click on a contest. You can score each photo from 1-5 (with 5 being the best). After you have scored an image, you can leave feedback for the photographer/artist by clicking on the "Comment" button:
Once the contest closes, our system will calculate the winning image from the vote counts. The highest rated image wins. It's that simple.
Viewing Feedback From Voters
You can view feedback left from voters by clicking on the title of your entry in the Dashboard -> Contests. Scroll down to the bottom and all feedback will be listed there.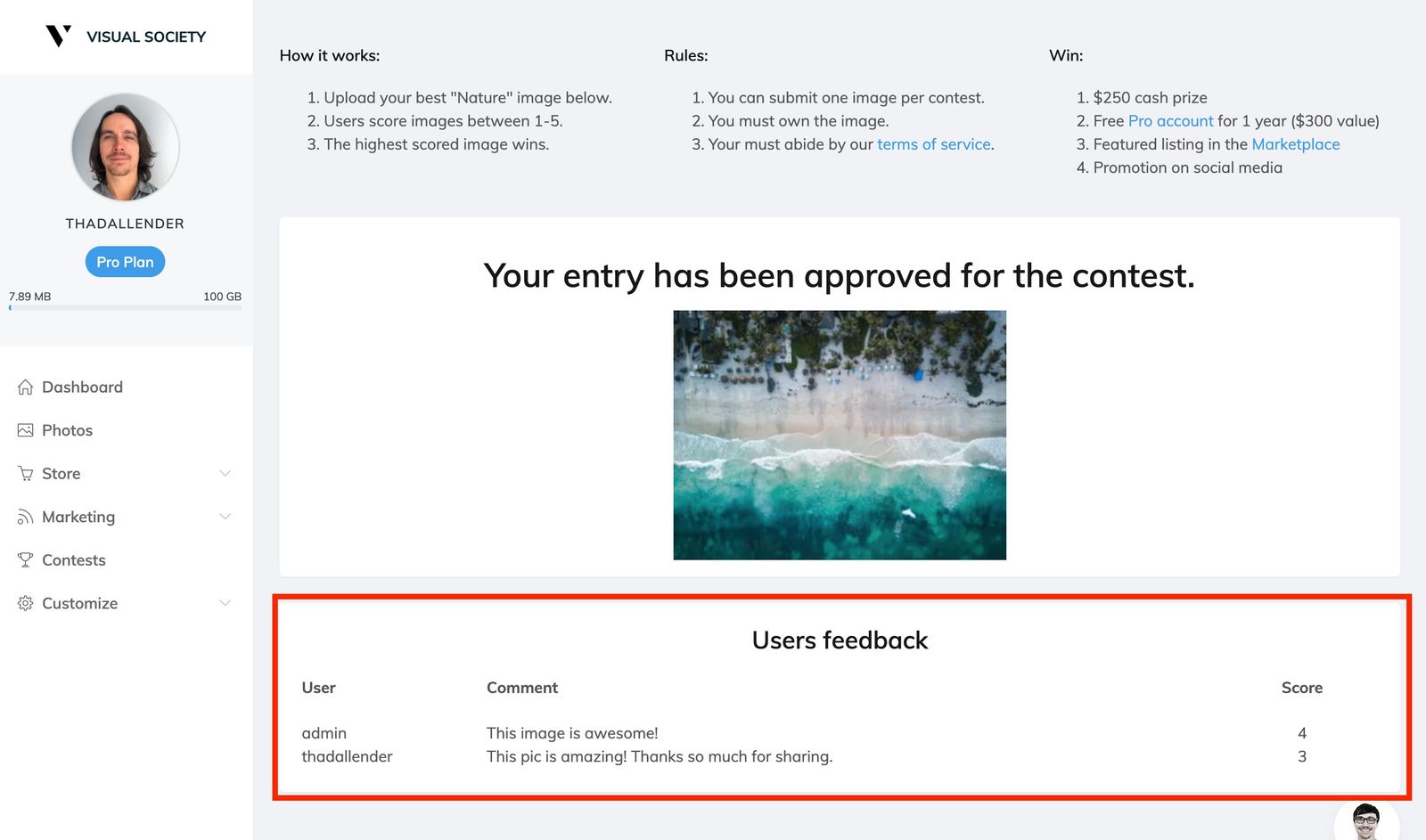 Viewing Winners
To view the contest winners, simply visit the Contest page and click on
Past Winners
.
As mentioned already,
photo contests
on
Visual Society
is a fun and easy way to enter photo contests, get feedback on your work, and gain exposure. Plus, it's just plain fun!
Entering a contest is easy. Simply upload your best image and share your entry with your friends and followers to gain votes. Anyone can vote and all you need is a free
Visual Society account
.
Although you're effectively competing in contests, it can be a way to learn, get feedback from peers, make new friends, and find new photographers to keep up with.
Note that entries can be scored from one to five, and the entry with the highest score wins both $250 and a free Pro account.
Regardless of your skill level, we're inviting you to submit your best images to our contests.
How Contests Help Improve Your Photography
There are arguably numerous ways to improve yourself as a photographer or bring your work more visibility. However, it can be quite difficult to pinpoint which will be the most effective for you and deliver the most results.
This is where photo contests come in. They can be a source of inspiration, a way to hone your skills further, and more. Showcasing your best work to be reviewed by others can be beneficial for you career-wise. You'll receive instant feedback from your peers via a rating system, with 1 being the lowest and 5 being the highest.
In this article, we will discuss why you should participate in photo contests, and offer tips for making the most out of them.


Why You Might Want to Take Part in Photo Contests
Regardless of whether you're a professional photographer looking to gain more visibility, or simply looking to find out how your work compares against your peers, photo contests can be an excellent way to push your limits.
As implied by the name, contests help you showcase your best pictures with a chance to win prizes, exposure, and social clout. However, there are more subtle reasons why photo contests are appealing.
The best contests will let you hone specific aspects of your craft. You'll find theme-based competitions based on architecture, aerial or underwater views, portraits, or pet photography. These will usually require you to adapt your photos to fit the theme, which can improve your ability to create stellar images while working within constraints.
Finally, photographers need to develop unique personal styles to stand out, and contests can be an effective way to do so. Winning competitions requires you to create eye-catching, evocative entries, and this can force you to employ styles and techniques you may otherwise never have considered.


Tips for Making the Most of a Photo Contest
It's important to treat photography contests as valuable learning experiences. You want to focus on improving your styles and techniques, rather than on winning. For example, seeing multiple interpretations of a contest's theme can inspire your own work.
You might also get valuable feedback from judges to help you improve, as well as the opportunity to actively solicit feedback if it's not given. If you don't win, you might want to find out what made other entries better than yours.
When selecting photos for your entry, you'll want to get direct feedback from others regarding their quality or ability to evoke emotion. While friends and family are great for an initial viewpoint, someone with no emotional ties to your work (for example, forum users) may be better. It might also make sense to shoot something specifically for the contest if you have the time.
Additionally, you'll want to choose the categories you enter carefully. You could find topics you're already interested in and are skilled at covering, or you might enter a category with few entries to give you a better chance at winning.
Conclusion
Regardless of whether you're looking to see how you measure up to others, or are looking to get more eyes on your pictures, photography contests can help you on both counts.
In this article, we discussed why you might want to take part in photo contests and how to make the most of your experience. We also introduced photo contests on Visual Society and listed some current competitions you can take part in, such as
Forest
,
Moments
,
Urban Architecture
, and more.
Which one of our ongoing contests are you most excited to join? Let us know in the comments section below!