Due to the current global crisis, many avenues for earning reliable income have been closed. If you want to keep your business afloat, you may need to explore new ways to earn from your photography.
Opening an online storefront isn't a new idea, but it could be even more lucrative now. What's more, combining a
Visual Society
site with one of the most popular social media platforms helps you create an Instagram store that gets people's attention
In this post, we'll look at why Instagram is a great partner for your Visual Society store, and talk you through how to get started.


Why Instagram Should Be Your Primary E-Commerce Marketing Arm
Daniel Arnold
may be a familiar name if you spend much time browsing Instagram. He offers slightly surreal photography that's often topical.
However, a few years ago his photography income was minimal, until he asked his Instagram followers whether they wanted to buy prints. The response
was overwhelming
. One day, Daniel made around $15,000 in sales – of which his most popular was an interaction on the New York subway: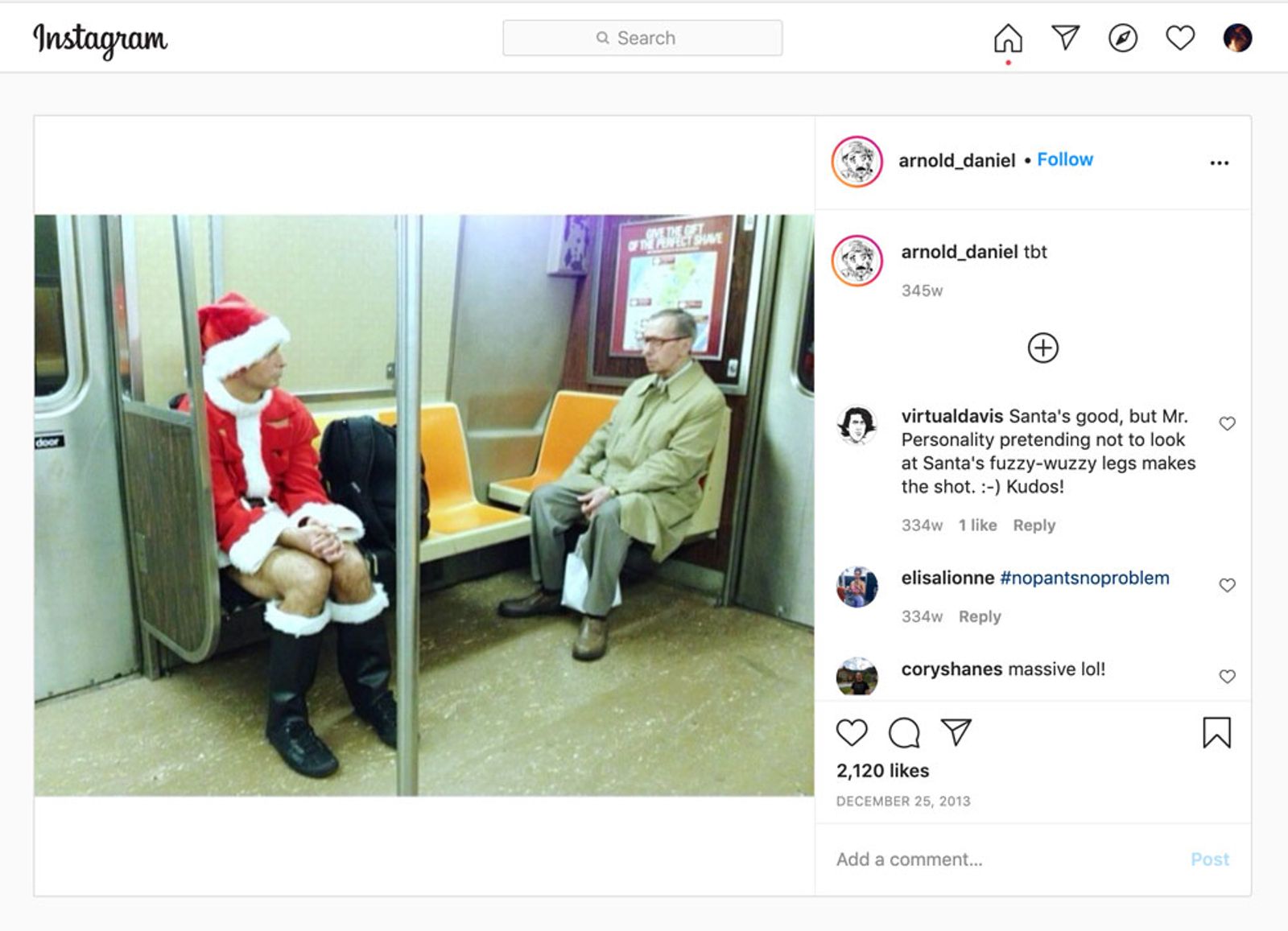 Photographers of all stripes can take a few lessons away from this:
Instagram – much like all social media – is ideal for promoting your work and business.
The platform can help you cultivate a much larger audience.
This is a key way to find people who like your work enough to pay for it.
Instagram is particularly well suited to getting eyes on your work, especially when you operate in a highly-visual niche like photography.


Preparing to Create and Launch Your Visual Society Store
Before you get your store up and running, preparing for the launch can increase your chances of success. Here are
some of the techniques
we'd recommend building into your strategy:
Use scarcity as a generator for action. Daniel Arnold (mentioned earlier) suggested that his sale was a 24-hour event, after which there would be no more prints available. You could also set a limit on the number of prints you sell, driving visitors to action.
Create value for the potential customer. Arnold also claimed that he would "never sell prints this cheaply again", which creates an increased temporary value for the product in question.
Keep 'showing up'. Making multiple posts and updates keeps you at the forefront of your audience's minds. Plus, when one set of customers moves on, another will be discovering you for the first time.
The key concept to remember is that in order to make a sale, people need to know about you and require some kind of motivation. That means creating consistent marketing messages with strong Calls to Action (CTAs).


How to Create an E-Commerce Store Using Visual Society in 3 Steps
With the basics out of the way, we're ready to talk about how to create and launch your Instagram store
using Visual Society
.

1. Decide What Products You'd Like to Sell


First, you'll want to
choose your products
. Visual Society offers two fulfillment options – self- or auto-fulfillment. For many store owners, auto-fulfillment can save a lot of time. However, self-fulfillment gives you complete control over the whole ordering and shipping process.
You'll also want to make sure that potential customers can visualize your products. Visual Society actually generates product mockups automatically. Buyers can visualize the product in a room, on a wall, and even view the product in full screen mode. Making mockups by hand is now thing of the past, saving you loads of time so you can focus on your craft.
If you want to sell custom products that you print and ship yourself, you can still make your own custom product mockups. So, you get the best of both worlds!

2. Create Your Visual Society Store


Once you've decided on your product line, next up is creating a way to sell it. We've covered this in another article, although the basic process looks like this:
While this seems like a huge task, you can be up and running within the hour. Having a solution like Visual Society by your side can help expedite the process of creating your store, and get you back to doing what you do best.

3. Launch Your Visual Society Store Through Instagram


Finally, you'll want to launch your store, both through Visual Society and Instagram. Back when Daniel Arnold sold prints, the scope for e-commerce on the platform was still small. However, Instagram now has a
number of ways
to market your brand, business, and products.
Including links in your bio is the classic way of promoting yourself. It's free and simple, at the expense of visibility. Customers will need to actually visit your profile to find your offerings.
To supercharge this technique, consider also adding a CTA leading to a dedicated Instagram landing page:
Stories are another popular way to generate interest in your brand as a whole. Although they're time- and engagement-limited, Stories spend their time at the very top of a user's regular feed, as well as your own bio.
Shoppable posts
are a relatively new way to set up an Instagram store, which lets you tag images with links to your shop:
These posts can take a little time to set up, but can be your most effective tool for attracting a broader customer base. From there, it's most important to stay highly-active on Instagram, even if those extra posts are simple lead-generators for your store.


Conclusion
There's a reason you're constantly hearing about the benefits of running an e-commerce store – it can be a stellar income-generator. If you're a photographer with work to sell, running your own store gives you total control over the process.
Of course, launching a store through a platform such as
Visual Society
requires more than simply clicking a button and sitting back. It will require integration with your social media channels too, particularly Instagram. Fortunately, that platform offers many excellent ways to promote your work and brand.
Are you thinking of starting a Visual Society store? Ask your questions in the comments section below!